Hey! How are you today? Well I hope you are doing great. So why are you here? Oh right! To get the RTO vehicle information.
Well let's get into the topic starting away….!
Earlier, getting vehicle information from the RTO was time taking and a risky process. But these days it is easy! All thanks to the digital processes, which made things easier. Nowadays RTO vehicle information can be accessed via online.
Here in this post we will be dealing with 2 such actually working methods to get RTO vehicle information. Let's get started…
2 Best Ways to Get RTO Vehicle Information
As said above things are really made easy here! Pay attention to the methods mentioned and you can successfully get the vehicle information you desire.
First things first, you should have the complete vehicle's registration number to get the information from RTO. So, make sure that you have the proper number and also check whether you have entered it properly.
#01 Websites to Check Vehicle Information Online
There are a few to many websites that can help you check the vehicle information by just entering it's registration number, or number plate's number.
When you  search on google you will get a huge list of websites, and this may confuse you. Thus, here are 2 such websites that we found are good to use and are reliable with your search.
com – Using this website is smooth as butter. All you need to do is enter the vehicle number in the search box, and press the 'Find' button. This will give you the complete details of the vehicle that are registered online.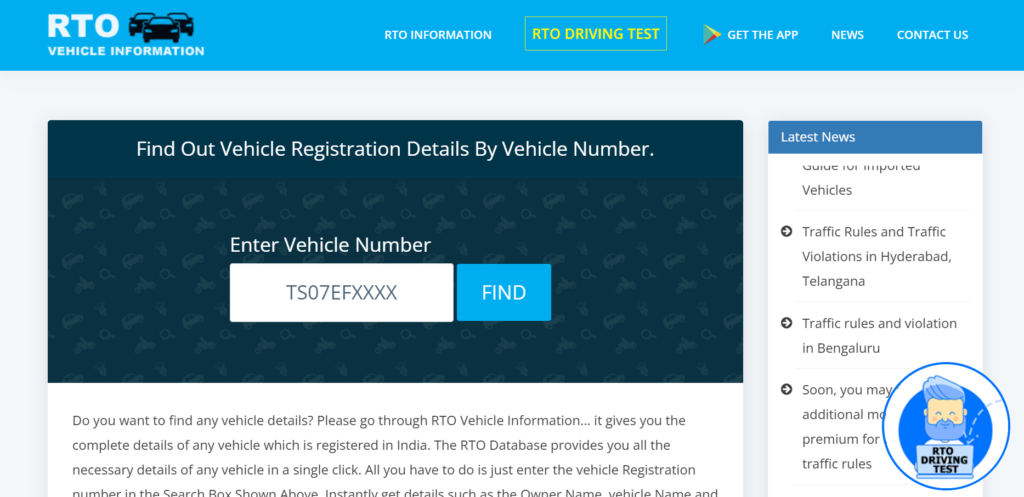 com – The process is almost the same as of the above website. But here you need to scroll down the page and then you should enter the details in the 'Number Plate Number/Registration Number of Vehicle' section, and press the 'Submit' button.
You can just remember the sites, or you can even bookmark this post and access them by clicking on the above links.
#02 Making Use of RTO Vehicle Information App
Nowadays, there is an app for everything! It's like this on PlayStore, 'you name it we have it'.
Thus, there are many apps on PlayStore that will help you check the vehicle information. And we prefer the RTO Vehicle Information application offered by the RTO.care.
So, what makes this application get recommended by us? There are many reasons which makes this app stand apart from its competitors. Here are a few,
Sophisticated User Interface.
It offers options as per the vehicle type (bike, car, and others).
It also has other options like scanning a number late, checking your license info, and whatnot.
You can also check challans on vehicles.
The thing which we liked the most is you can also prepare for the RTO tests like driving tests with the use of this app.
It will consume more time if we discuss this app more and more. So, it's best to install the app and check out the features it has.
So, how to install? No worries we got you covered. Just click the Download button below.
Takeaway
Hope you understood this post! If you have any queries you can drop them in the comments section and we aim to respond shortly.
With the help of above two methods you can easily check the vehicle number in case of hit and run situations, or you can even use this to know your own vehicle's info, apart from this you can also make use of this to help people around you who are in need of the same.
Enjoyed it? Why not share with your folks? It's simple, just use the sharing options and you are good to go.