To uplift your marketing exposure and gain the valuable attention of the target audience, Twitter will be very much useful. For the individuals who need to seek intellectual stimulation and viral content,Twitter can be considered as the best platform. It also provides a wide range of features for the marketers which help them to attract audiences with their immersive and interactive content.
If you use Twitter frequently, you may post a message that catches the attention of other users or that stands out from the rest of your feed.
Twitter's pin a post is one of those features. It has its own benefits and doesn't take more time to do. Below is the guide to tell you how to do it on a desktop or mobile device.
How to Pin a Tweet on Twitter Web?
You have to use twitter's official website to pin a tweet if you are using Twitter on the web. Follow the steps given below to know how to pin a tweet on Twitter for the web.
Go to the web Browser and open the Twitter site.
Login to your Twitter account, if you haven't done it previously.
On the sidebar of Twitter you will find a profile click it. You will be taken to your profile page.
Scroll down the tweets list on the profile page until you find the tweet you want to pin. This may be any tweet you've ever sent through your account.
As soon as you find the tweet tap the three dots present at the right top corner. This will open the menu.
Select 'pin to your profile' in the menu.
A prompt appears on Twitter, stating that your tweet will replace any previously pinned tweets. To proceed, click 'Pin' at this prompt.
Now, your selected tweet will be pinned to your profile. To view it scroll up the profile page.
How to Pin a Tweet on iPhone or Android Devices?
To pin a tweet to your profile using iPhone or Android device follow the below given steps.
Step 1: First, you need to open a Twitter app on your iPhone or Android.
Step 2: Tap the Profile option to open your profile picture located on the top left corner of your screen.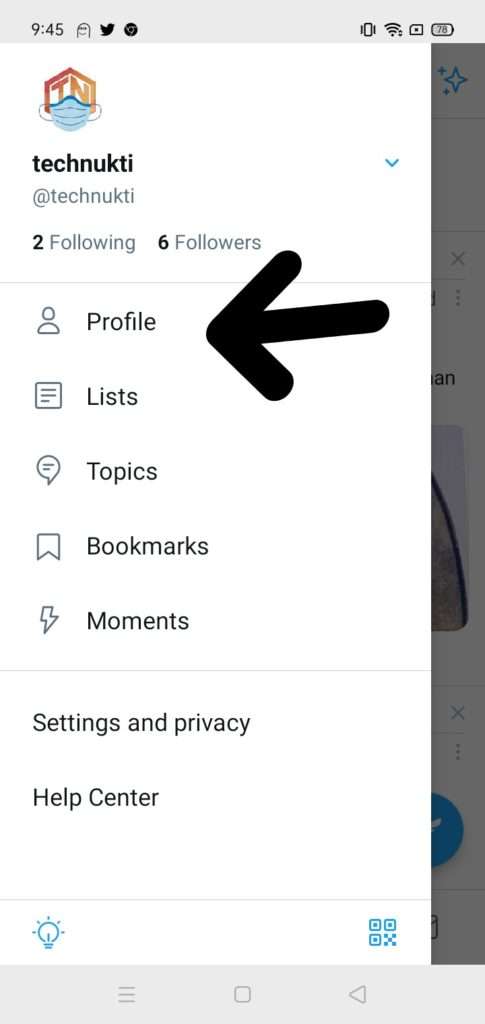 Step 3: After logging in, go to your profile and scroll through your tweets until you find the one you want to pin to the top.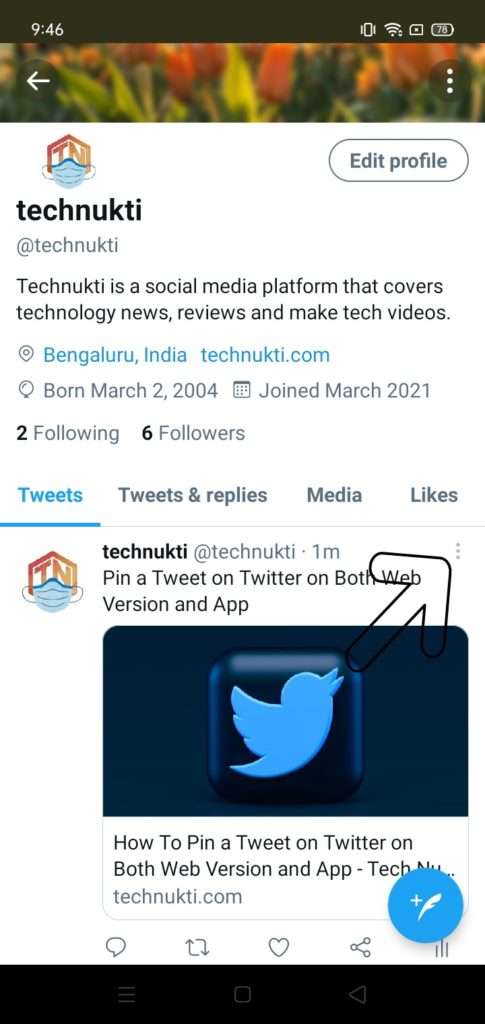 Step 4: click the downward pointing arrow icon present at the top of the tweet to pin your desired tweet.
Step 5: Select pin to profile from the given option.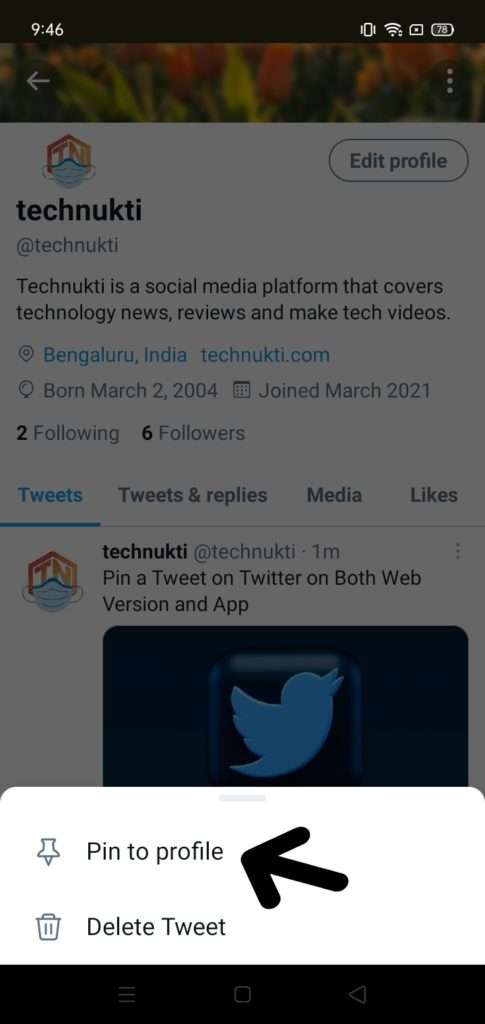 Step 6: You will get a pop up confirmation on your screen. Hit pin to confirm.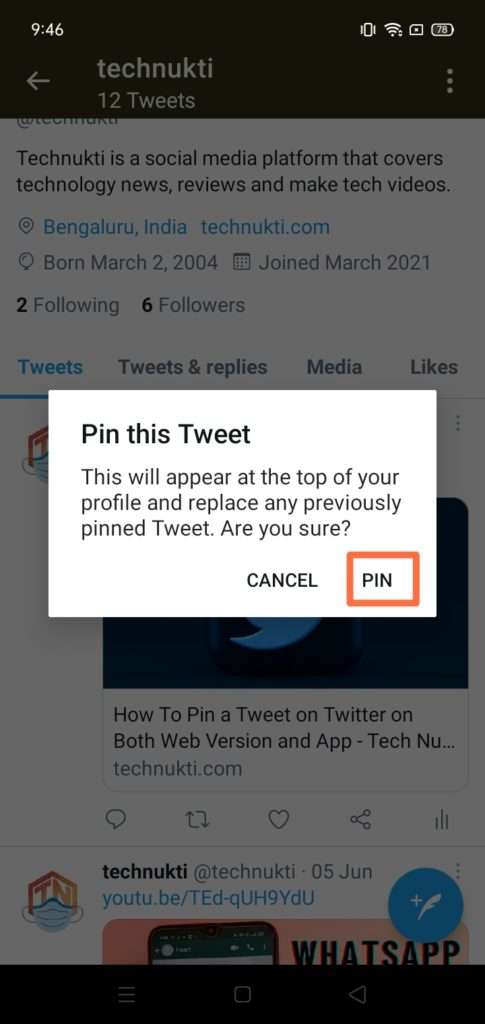 That's it! Your desired tweet will be successfully pinned to your profile.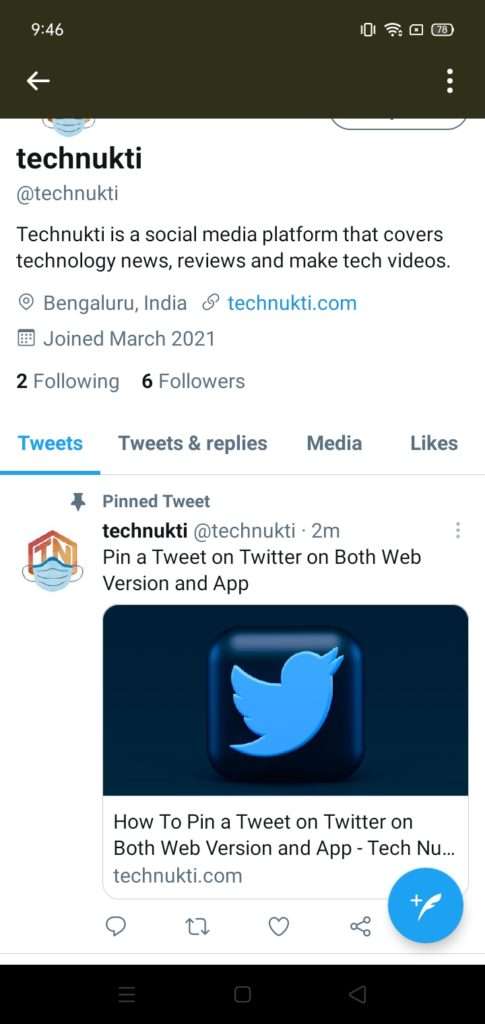 Benefits of Pinning a Tweet on Your Profile
Pinning a tweet to your timeline gives you a lot of exposure. A pinned tweet has its own benefits than normal tweets. Below are some of the advantages that a pinned tweet has.
You can earn money with the help of pinned tweets.
Every new visitor of your profile can view the pinned tweets.
It has a higher visibility and attracts the attention of everyone who visits your timeline.
You can use the Pinned tweet to alert or promote a great offer, blog post, or even a product you've created.
To show up your personality, use the pinned tweet aesthetic.
How Can the Pin a Tweet Feature Help Your Brand Grow?
Pin a tweet feature helps your brand in the following ways.
It helps you to uplift your Twitter engagements.
Help you procure more and more followers.
It helps you to gain exposure for major campaigns.
It helps you to obtain more likes and retweets.
You have to use the Twitter app efficiently and effectively in order to get all these benefits. It's best to pin tweets that have the most potential for increasing lead generation, interaction, and exposure for significant marketing efforts.
What if You Want to Unpin the Tweet?
Yes! You can do this too.
At the top of your profile page search for the tweet mentioned as 'pinned tweet'.
Click the three dots in the top-right corner of the pinned tweet and select 'Unpin from profile.'
A prompt will appear stating 'cancel' and 'unpin'. Select 'unpin'.
Your chosen tweet has been removed from your profile. It's important to note that unpinning a tweet does not delete it from your Twitter account.
Hope this informative post was helpful and solved your search for the same. We will be uploading all the tips and tricks regarding tech stuff, do subscribe to our newsletter to stay updated.